Does Your Building Need Protection From The Sun?
Here are four important parts of your building as well as how the sun can damage an otherwise sturdy structure. We've also included how you can prevent UV damage from the sun and recommendations for when repairs or upgrades are needed. As a bonus, there are also tips to help you with fall roof maintenance as you prepare for the never ending cycle of roof wear!
UV's Effects on Your Roof
The threat: Exposure to the sun's ultraviolet rays can lead to a variety of damage, depending on the roof's shape, the materials used, the roof's overall color, and even the building's location.
For instance, flat roofs are popular on brick buildings that were constructed more than 150 years ago in bustling cities throughout our country. These sturdy buildings are still in use today, and many are being repurposed into shared workspaces, trendy restaurants, and beautiful homes. However, special care must be paid to their dark-colored, flat roofs, which can weaken from UV exposure and leak when enduring pounding rain.
Even owners of conventional warehouse spaces are incorporating this "cool-roof" technology, especially given the size of the typical flat warehouse roof.
Unfortunately, you do not need to be on the outside of your building to notice problems with your roof. Stains on the ceiling are a telltale sign you have a leaking roof.
What you can do: Do not wait for rainwater to travel unnoticed from your roof into your walls and to your foundation, undermining your building's structure. Good roof maintenance occurs regularly with an annual inspection from a licensed roofer. Choose a roofing sealant with a UV inhibitor to reduce sun damage.
UV's Effects on Your Concrete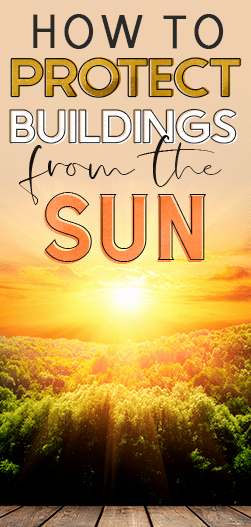 The threat: The sun's rays can break down the concrete in your driveway, sidewalk, and patio, resulting in cracked and weakened conditions.
It's easy to ignore outdoor concrete. You drive on it or walk across it when coming and going from your building, but once inside, it's out of sight and out of mind.
Structurally sound concrete is vital to your building's foundation, but just like all parts of a building, concrete can silently take a beating from the sun's UV rays. Ultraviolet radiation can weaken concrete, leaving it prone to additional weather-related issues, such as damage from ice-melting salt. 
What you can do: Concrete's durability and versatility is increasing in popularity (and, thus, demand) for use outside of buildings and inside, as a low-maintenance alternative for interior flooring. Indoor concrete floors can be tinted just about any color and, when sealed, can withstand wear, tear and spills from roughhousing kids and galloping pets better than wood and carpeting.
Reseal concrete when needed to protect it from being cracked and weakened by the sun. When installing new concrete, always hire professional concrete installers who are sticklers for adhering to curing processes and times. Many will incorporate curing blankets, using them to cover and protect curing concrete from the sun's rays. Ask your installers about UV-resistant colorants and sealants. 
UV's Effects on Your Wood Siding
The threat: Exposure to the sun's rays can discolor wood surfaces, creating cracks and other damage to your siding.
It's easy to forget the original color of your wood siding from when your building was new, especially since the sun's exposure can make the building fade almost uniformly. Try to locate a decorative covering that has kept the siding protected from the sun, such as a shutter or an address plaque. As long as the item is simply decor and not vital to the building's integrity, you can remove the item to expose the original shade of the wood. You might be surprised by how much the wood has faded in such a short time.
 What you can do: Lightly sand and re-stain wood siding every three to five years or repaint every seven to 10 years. Doing so will protect your siding from moisture, mold, and mildew in addition to the sun's harmful UV rays.
UV's Effects on Your Interiors
The threat: Your building's interior is not immune from the sun. The sun's rays can enter through unprotected windows and cause damage to window treatments, flooring, furniture, important framed documents on the wall, expensive artwork, and valuable antiques.
What you can do: Add UV-blocking window film to your windows to reduce the effect of the sun's damaging rays through the panes. You also can upgrade your window treatments from sheer drapes or inexpensive blinds to more substantial sun-blocking curtains.
If you're replacing windows entirely or building new construction, take the opportunity to invest in low-emissivity (Low-E) windows. Panes that have been treated with these virtually invisible Low-E protective coatings can minimize the amount of harmful UV rays that enter a building without reducing the amount of light coming through the glass. Low-E windows typically are 15% more expensive than windows without the UV-protecting coating. However, they can reduce your building's energy loss by as much as 50%, making them worth the investment.
Do not wait until you start to see signs of sun damage to the various parts of your buildings. Be proactive to protect your buildings and the valuable tenants, clients, customers, and contents inside them.