You might have decided on gifting your property to your loved ones. However, it is worth noting that your choice is going to come with inevitable financial consequences. For instance, you might have to pay a gift tax, whereas your recipient may be subject to the capital gains tax. On top of that, the recipient's eligibility for Medicaid might change.
If you want to save on tax, you should read up on the process of donating your property to your loved ones and look for an option that will be ideal for both you and the person that you want to gift the property. For instance, you can think about passing the property in your will. Other than that, you can put it in a trust.
If you are confused and do not know what to do, keep reading! Here, you will find a few pieces of advice that will help you understand how to donate property to your loved ones and save on tax.
Ways of Donating Property to Loved Ones
You can donate your property to your loved one only if you have decided to give up the ownership of your property. Such a donation has to be made through a transfer of ownership. In general, you can give your house away in three ways - by deed, by will, and by a trust.
It is worth noting that the person receiving the property has to pay taxes on it. Later on, if the recipient decides to sell the inherited property and its value exceeds the exemption level, the recipient might be forced to pay the federal estate tax. You can read more about selling an inherited property here!
In order not to be surprised by what is to come and avoid breaking the law, the recipient should be familiar with the federal tax laws, as well as seek professional legal advice from a lawyer who specializes in property law.
By Deed
Ownership can be transferred by giving the house to the recipient through a real estate deed. In such a situation, the person who gives up ownership of property is considered a grantor. The person receiving the ownership is considered a grantee. The grantor can make a specific provision in the deed for paying capital gains tax, which can make selling the property later on easier.
By Will
If you want to give your house away, you can always make a provision in your will and make it pass to your recipient upon your death. In such a situation, the recipient is considered a beneficiary. The beneficiary will be subject to inheritance tax. The amount of tax to be paid will depend on how much the property is worth.
By Trust
Giving away real estate through a trust is an affordable way of passing your assets to your loved ones, as it eliminates the dry capital gains tax charge. You can do it by way of a claim for holdover relief, which will defer any gain on the asset until it is sold.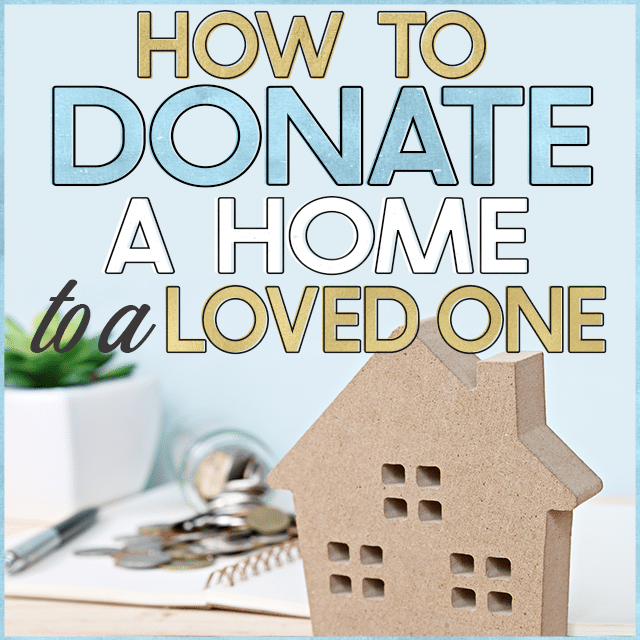 When Should You Not Be Making Gifts?
There are quite a few scenarios in which making gifts can be harmful to both you and the recipient. Here are two such scenarios!
Your Gift Will Result in Family Conflict
If your family is big and you decide to gift the property to one particular person, it might result in family conflict, particularly when the gift can make a big difference to the financial situation of one of the family members. In such a scenario, gifting your property is likely to put you in an incredibly uncomfortable situation.
Your Gift Might Reduce the Recipient's Financial Aid Eligibility
If you are planning to give away money or property to your children, you should know that such transfers can be viewed as extra financial aid. It means that upon receiving your gift, your child might no longer be eligible for financial aid offered by the government, which can leave your child with less money for living expenses.
Final Word on Donating Property to Family
To sum up, giving away property to your loved ones is a thoughtful act. However, you should not rush into it without thinking about the consequences of your actions.
For starters, you should read up on the federal tax laws regarding transfers of property and look for an option that will allow you to avoid having to pay high taxes. It might be time-consuming and boring, but it is definitely worth the effort!